THE BLUE ANGEL LOUNGE Néo-Psyché/Coldwave || Berlin
+ SHADOW MOTEL Dreampop/Noise || Lille
Concert
The Blue Angel Lounge s'est fondé en 2006 à Hagen en Allemagne et tire son nom du club où la chanteuse Nico a produit ses premiers concerts. Rien que ça, ça plante un décor… Foncièrement influencé par le Velvet Underground, Spacemen 3 et… Nico, le groupe sort son premier album éponyme en 2009 rapidement suivi par Narcotica (via 8mm musik, produit par Anton Newcombe), le second LP paru en 2010, qui leur permet de construire une jolie réputation dans la sphère chargée, dans tous les sens du terme, de la musique psychédélique.
Le groupe collectionne les premières parties glorieuses : Interpol, The Dandy Warhols, A Place To Bury Strangers, le Brian Jonestone Massacre lors d'une tournée de 10 dates aux Etats-Unis, sans oublier les participations notables à l'Austin Psyché Fest, soit LE festival des musiques psyché et l'adoubement ultime pour tout groupe psyché qui se respecte. Le sextet viendra fouler la moquette rouge de La Malterie avec un nouvel album dans leur besace, et au vu du cursus de ces allemands, vous êtes définitivement entre de bonnes mains.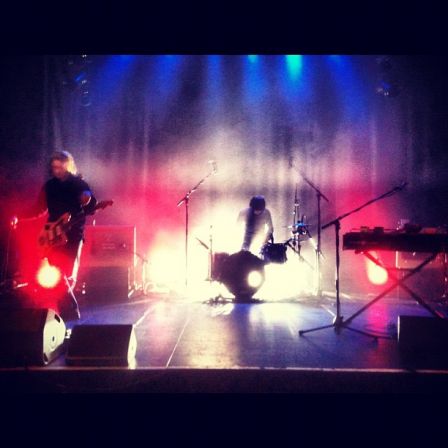 Et pour aiguiser l'appétit du public de La Malterie, le trio lillois Shadow Motel viendra promouvoir son premier album intitulé Ausfahrt Nach, (on reste donc dans la thématique germanique…) fraichement sorti via Cranes Records. Déjà très acclamé, le groupe lâche en pâtures un rock'n'roll psyché enflammé par un clavier incandescent. Une première partie de choix donc.


The Blue Angel Lounge - Caught Crow

The Blue Angel Lounge - In Distance
attention :
-l'entrée à la malterie est soumise à une adhésion d'1€/saison qui n'est pas incluse dans les pré-ventes, si vous ne l'avez pas déjà, elle se prendra sur place le jour du concert.
-les tickets en pré-vente sont majorés (1€ de frais de location). Des places sont vendues sur place le soir du concert, mais la malterie ayant une petite jauge, il peut être bon d'acheter son ticket à l'avance, surtout si vous venez de loin ou arrivez tard.